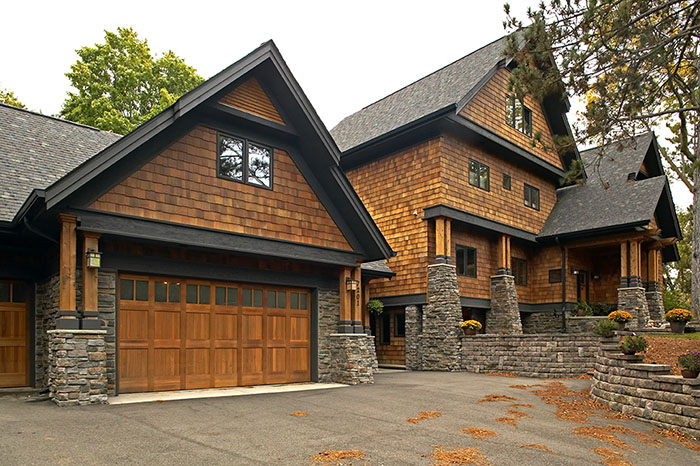 Photo courtesy of Shakertown
Real Cedar shingle siding and cedar shake siding are two great cedar siding products for setting your beloved home apart from all the indistinguishable and uninspired facades on your block. With Real Cedar shingle siding, you get a look that is beautiful and timeless. In addition, Real Cedar shingles and shakes get better with age as the warm undertones mature into a beautiful lustrous grey patina.
Shakes vs Shingles
Cedar shakes and shingles are similar wood siding products, but there are some differences between the two house sidings. For instance, cedar shingles are generally sawn on both sides, while shakes are typically split on one or both sides. Wood shingles are more precisely milled than shake siding. Shakes are more irregular, and don't lay as flat when installed. Cedar shake is also thicker than shingle siding, ranging from 1/2″ to 3/4″ or greater at the butt end, while wooden shingles range from about 3/8″ to 1/2″.
Cedar Shakes and Shingles Styles
Thanks to availability of 8-foot panels on the market, it's easier than ever to install Real Cedar home siding. Below are some styles available for Shakertown panel siding:
| | | | | |
| --- | --- | --- | --- | --- |
| Keyway | Contemporary | Even Butt | Staggered Butt | Mitered Corners |
Keyway
Vertical spacing between shingles lends visual interest and traditional appeal
Contemporary
Set tight and touching to add a smooth, uniform finish to modern designs
Even Butt
Creates a consistent, symmetrical line in keeping with the newer styles
Staggered Butt
Adds character and dimensionality to a home's finished appearance
Mitered Corners
Mitered corners add a quality finishing touch with less labor required
Shakertown Shingle Panel Features
Full coverage with 100.8 square foot per panel square
Nothing but cedar visible in the keyway
Random, traditional shingle widths of 3″ to 14″
Thick shingles with an average thickness of .38″
Fully bonded to exterior grade backer to PS1-07 Standard
Easy installation with 5/16″ self-aligning edge
Rain screen technology for 98% drainage efficiency
Return to: Cedar Siding